Summer camps are a great time for Fayette and Coweta kids to try new things, nurture unique interests, meet new friends, stretch their creativity, and have tons of summer fun! Whether you've got a preschooler, a teen, or a few in between, you're guaranteed to find something on this list of summer camps that your kid will be excited about!
---
Bookmark this guide and check back often. We'll continue to add camps between now and June!

When you find the camp that's right for you, please let them know you found them on Macaroni KID Peachtree City-Fayetteville-Newnan!

---

---
Gym South Gymnastics, Tumbling, Ninja & Dance
400 Pavilion Parkway
Fayetteville, GA 30214
(770) 461-5528
Website ~ Facebook ~ Instagram
Gym South's Summer Camp runs from May 31-August 3 and we offer 1 day, 3 days or 5 days rates. The camp is for children ages 5-12 years of age. Our campers will participate in gymnastics, tumbling, ninja, dance, organized games, art projects, talent shows and take weekly field trips to Tinsletown and Your Pie Pizza. You can drop off your child between 8-9 am and pick them up between 4-6 pm. Our camp activities occur from 9 am-4 pm. For members 1 day is $60, 3 days is $144 and 5 days is $179. For non-members, please add $5.
Bedford School Squirrel Hollow Camp
5665 Milam Road
Fairburn , GA 30213
(770) 774-8001
Website ~ Facebook ~ Instagram ~ Send Email
Squirrel Hollow Camp, a remedial summer program of The Bedford School, serves children with academic needs due to learning differences or any students who need summer skills practice. The program, which has been held each summer since 1981, is for students of ages 6 to 14. Campers participate in an individualized academic program as well as recreational activities. Students receive academic instruction in the areas of reading, reading comprehension, writing skills, and math through a variety of structured, multi-sensory techniques and materials. Classes, which are grouped by age and skill level, do not require the students to keep up with materials or do outside work; therefore, campers work on improving their academic skills in a stress-free environment. Recreational activities include swimming, team games, Challenge Course elements and a variety of other games and activities. Dates: June 12-23, 2023 or June 26- July 7, 2023 (no camp July 4).
Master Shim's World Class Tae Kwon Do
700 Glynn St. S
Fayetteville, GA 30214
(770) 460-3356
Website ~ Facebook ~ Send Email
Master Shim's World Class Tae Kwon Do provides a fun, safe, and educational summer camp for children ages 5-12. Campers will enjoy a wide range of age appropriate activities including games, arts and crafts, field trips, and sports along with professional Tae Kwon Do instruction. Camp day are from 8 am - 4 pm (early care and late pickup available). Early registration at www.atlantatkd.com is already open and ends on March 31st. Only 25 campers in each age group (Ages 5-7, 8-10 & Ages 11-13) will be accepted for any week.
Junior Golf 365 Summer Camp
Two Locations:
Summergrove Golf Club
Wendell Coffee Golf Center
(770) 402-8749
Website ~ Instagram ~ Send Email
Junior Golf 365 - Teaching A Game of A Lifetime to Girls & Boys Age 4 & Above. Multiple locations & opportunities for your child to learn golf and improve their skills in a BIG TIME FUN & PLAYFUL environment. We have designed a proven youth development program for Beginners to Existing Golfers of ALL Ages! Our system builds on strong fundamentals of putting, chipping, pitching and full swing to develop playing ability quickly and effectively using games as well as other fun activities. Movement Skills are also a big part of our camps/classes.
The Legacy Theatre Summer Camps
1175 Senoia Road
Tyrone, GA 30290
(404) 895-1473
Website ~ Facebook ~ Instagram ~ Send Email
The Legacy Theatre offer several Camp Programs
Musical Theatre Intensive: An awesome week learning from our area professionals focusing on auditioning, choreography, playwriting and more! Ages 7-18. June 26th-30th; 9am-2pm
Camp Legacy Half Day (The Little Mermaid Theme): From acting/improv comedy to learning a musical medley! Campers will perform in a final showcase on the last day! They will also get to perform for the pre-show of our professional summer show, The Little Mermaid! Ages 4-8. July 10-14; 9am-12pm
Camp Legacy Full Day (The Little Mermaid Theme): Our most fun week all year! Acting Improv, Choreography, Talent Show, and on and on! Parents are invited final day to watch a showcase! They will also learn a full musical medley to perform for the pre-show of our professional summer show, The Little Mermaid! Ages 7-18. July 17-21; 9am-3:00pm
Little Dreamers Half Day (The Little Mermaid Theme): Delight your star with this awesome camp. From acting/improv comedy to learning a musical medley! Campers will perform in a final showcase on the last day! Ages 3-6. July 24-28; 9am-12pm
Southern Conservation Trust Summer Camp
305 Beauregard Blvd.
Fayetteville, GA 30214
770-486-7774
Website ~ Facebook ~ Instagram ~ Send Email
Camp WILD at Fayette Environmental Education Center offers five weeks of camp. Join us for one or all five weeks. Each week offers a different theme with fun games, activities, live animal encounters, and crafts so your camper can keep the fun going all summer long. Nature-based themes include Nature Detectives, Color, Herpetology, Bugs, Decomposers, and Hydrology. Open to ages 7 – 11 years.
100 Southern Ground Parkway
Fayetteville, GA 30215
678-561-9600
Website ~ Facebook ~ Instagram ~ Send Email
Founded by Grammy-award winning musician Zac Brown, Camp Southern Ground is an inclusive, residential camp serving kids ages 7-17 from varied backgrounds and abilities with programs that challenge, educate, and inspire. It's a place where goodness grows and campers learn kindness, community, and respect for differences. This is a place where young people can explore over 400 acres of nature, build relationships with their peers and counselors, and make memories that last a lifetime.
Lazers Soccer Total Player Development Camps
Peachtree City Athletic Complex
1125 Hwy 74 South
Peachtree City, GA 30269
Website ~ Facebook ~ Instagram ~ Send Email
Lazers Total Player Development Camps are week long camps dedicated to different topics at each camp. These include, but aren't limited to, Ball Mastery, Team Tactics, Attacking and Defending. Our camps are in the evenings Monday – Thursday with a showcase game on Saturday morning at the end of the week!
Splatterdash Studios Summer Art Camp
1219 Peachtree Parkway
Peachtree City, GA 30269
(678) 373-8030
Website ~ Facebook ~ Instagram ~ Send Email
Art Camp at Splatterdash Studios is the BEST way to have your child spend their school breaks! Painting projects, drawing projects, ceramic projects (fired in our studio kiln), mixed media projects, and more! Children will create 3+ projects a day! Ages kindergarten-12 years. Offered every week during the summer. Choose a 5 day morning camp 8:30a-12noon or 5 day afternoon camp 12:30p-4p.
Studio 27 Talent Development Summer Camp
602 Dogwood Trail, Suite G
Tyrone, GA 30290
Website ~ Instagram ~ Send Email
Studio27 Talent is an award-winning, premiere talent studio for actors and performers in the Southeast. Offers acting, performing arts and music camps for kids, ages 5-17. Camps Offered: Performing Arts Camp 1: Hip Hop and Michael Jackson. Acting Camp: 10 Minute Plays. Glee Performing Arts Camps. Lights, Camera, Action! Camp.
19 Bullsboro Drive, Suite A
Newnan, GA 30265
1.800.309.0770 ext. 6
Website ~ Facebook ~ Instagram ~ Send Email
When School is out STEAM is in at Challenge Island! Our outrageously exciting camps feel like vacations in their own right. We offer STEAM camps that focus on sports, super sleuth, sharks, wizardry, monsters & myths, arcade, the rainforest, universe and slime! Full and half day camps are available for ages 4-12 years old.
MY LIFE Summer Camp for Boys & Girls (formly Girlife)
During a MY LIFE Summer Camp series, a new positive message will be discussed each day with activities and crafts that help reinforce the topic in a tangible way. Your childs unique creativity will shine as he/she learns new life skills in a fun, safe, and supportive environment. We will also create healthy snacks and do some gentle movement to reinforce the body and mind connection. Your child will gain new life skills that he/she can implement now, during these pivotal years, and throughout adulthood.
Dramatic Fanatics Theatre Camp
Kedron Fieldhouse
202 Fieldhouse Dr
Peachtree City, GA 30269
Website
Dramatic Fanatics involves students in various aspects of theatre including acting skills, stage know how, auditioning skills, dramaturgy, stage makeup, costume design, scene work and improv. Enroll your child in this skill-oriented, fun camp that will bring out the best in your young actor! This week long summer camp is June 26th through June 30th from 10 am to 3 pm each day and includes a free show on Friday for family and friends.
LEAN into STEM LEGO Robotics Camps
Two Locations:
Counterpane Montessori School
HERO at Trilith
404.725.0873
Our "LEAN into STEM" LEGO Robotics Camp is an exciting and innovative way to learn and engage in Science Technology Engineering and Mathematics. Using a proprietary learning system, children will learn how to use LEGO bricks and other parts to design and program the LEGO Robot for specific movements and functions.
1550 Senoia Rd
Tyrone, GA 30290
404-921-2282
Website ~ Facebook ~ Instagram ~ Send Email
iBALL Summer Camp offers an enrichment hour, outside and inside gym activities; arts/crafts; weekly themes and field trips such as skating, swimming, amusement parks, movies, and local parks. The preferred ages are K-5th grade. Hours are 8 am - 5 pm.
168 Peachtree E. Shopping Center
Peachtree City, GA 30269
470-776-3057
Website ~ Facebook ~ Send Email
Transform your child's love for technology into an exciting learning adventure. Guided by our team of Code Senseis, Code Ninjas Camps empower kids ages 5+ to gain valuable tech skills and make new friends. It's an unforgettably fun learning experience!
770-477-7222
Website ~ Facebook ~ Send Email
The purpose of Camp Icthus is to encourage a growing relationship with God in an outdoor recreation setting. Campers spend a week away from the "modern distractions" of our culture and enjoy activities such as swimming, fishing, playing games, meeting new friends and just having fun. Join us for a fun day with your whole family enjoying our camp activities at Camp for a Day - April 22, 10am - 4pm.
---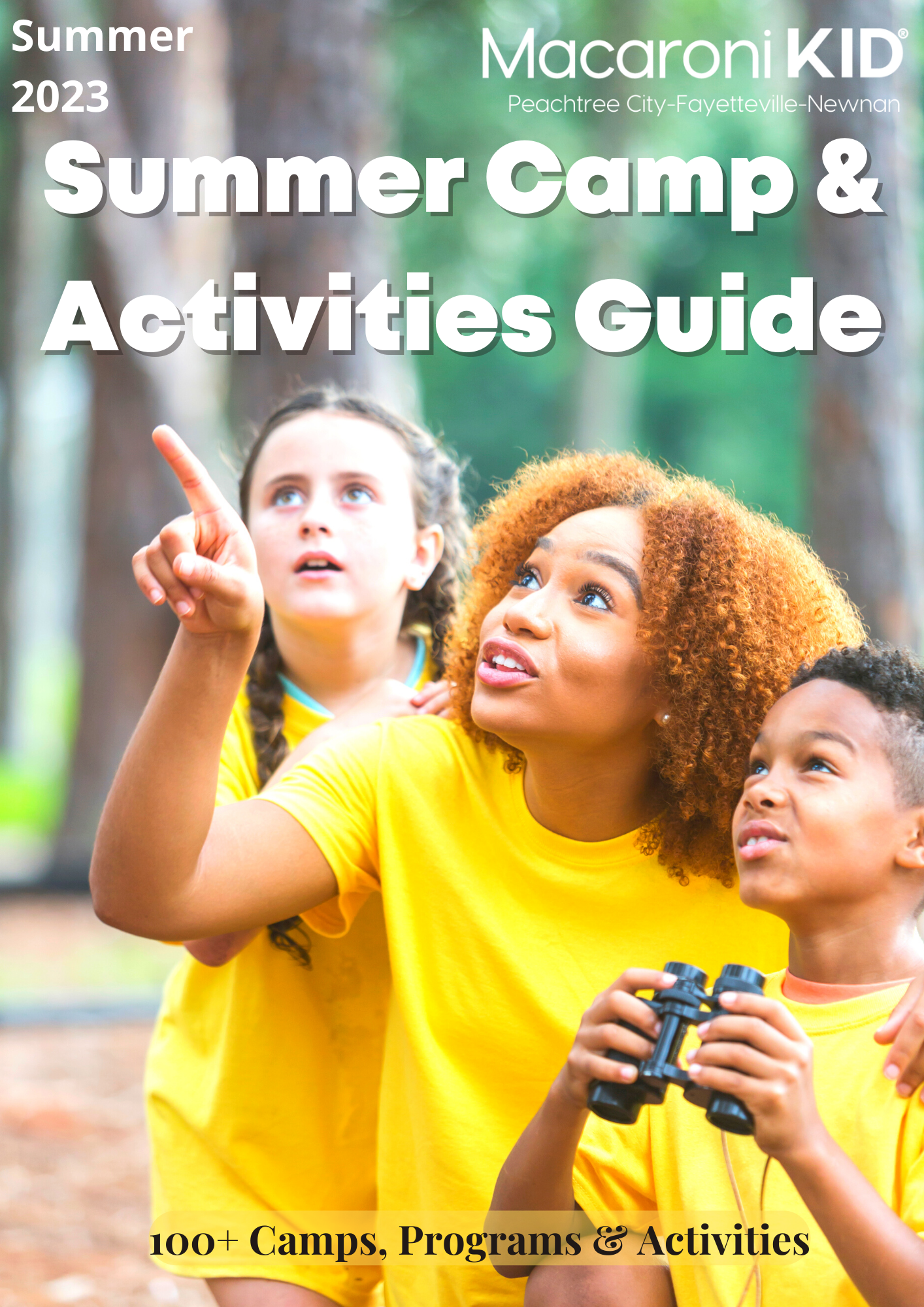 SUMMER CAMP & ACTIVITIES E-MAGAZINE
Our goal is for this camp guide to be as thorough as possible so you can find the perfect camp solution(s) for your kids. So we've done the research and scoured our local community for as many local summer camp opportunities as we could find. Want access to all of our research? Click here to get access to the list of 90+ local Summer Camps. All we ask is that you support our website by subscribing to our weekly newsletter filled with local events and info. We promise to never sell your email address.
| | |
| --- | --- |
| | Your local Macaroni Kid website and newsletter is a FREE resource because of the business partners who sponsor our site. Our local businesses are what helps keep our community unique and thriving. Please thank them by letting them know you saw them here! |