The colorful leaves and weather are beautiful this Fall!
Macaroni Kid Coweta Fayette's list of hiking trails are a genuine breath of fresh air and a memorable way to help you find your family fun® in the great outdoors. Plus, we love how walking and being in nature is great for stress reduction, which is something we all need with this crazy year!
Below are favorite local trails and walking paths picked by local moms. Whether getting out for an hour or a day trip, this guide makes it simple to choose a trail suited for your family.
SPONSORSHIP IS AVAILABLE FOR THIS GUIDE! Contact MichelleSchwab@MacaroniKID.com for more info.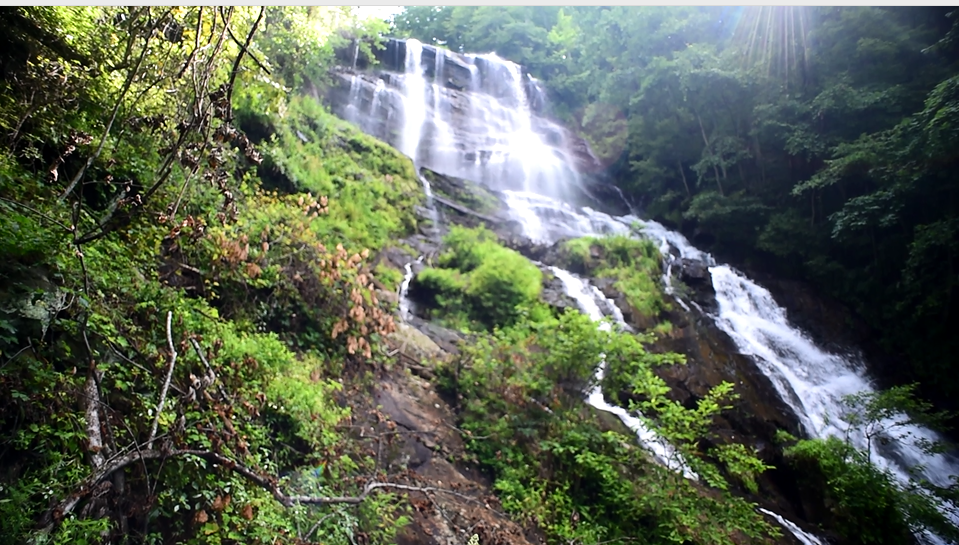 Amicalola Falls State Park (Dawsonville, GA)
DIFFICULTY: EASY-MODERATE • STROLLER FRIENDLY: YES
Hike to a magnificent 729-foot waterfall that's the third-highest cascading waterfall east of the Mississippi River! Amicalola Falls can be accessed from the bottom of the park by hiking up 604 steps. From there feel free to go back down the stairs or take a nice walk in the woods with the East Ridge trail, which adds up to just over two miles in length. The second way to access the waterfalls is via the West Ridge Trail that has ADA access and is stroller friendly. At only .3 miles long, it also leads to the observation deck for a beautiful view of the waterfall. There are more than 14-miles of trails total available in the park.
---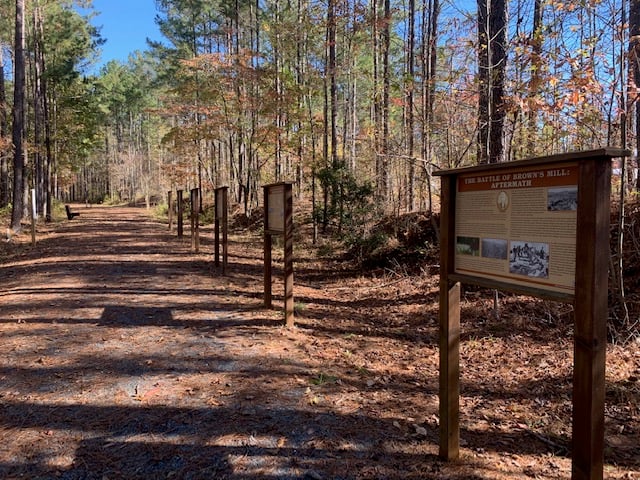 Brown's Mill Battlefield (Newnan)
DIFFICULTY: EASY-MODERATE • STROLLER FRIENDLY: YES (Jogging Strollers)
Owned by Coweta County, Brown's Mill Battlefield is a 200-acre park that provides walking, hiking, and biking trails. There currently are 5 walking trails and one biking trail between 1.5-2.5 miles. The Blue trail is a groomed trail that is wheelchair accessible and has interpretive educational signs. Parking admission is free and the park is open 7 days a week. Dogs are not allowed.
---
Chattahoochee Bend State Park (Newnan)
DIFFICULTY: EASY-DIFFICULT • STROLLER FRIENDLY: NO
There are 12 miles of trails at Chattahoochee Bend State Park. However, the Riverside Trail is a four-mile hike that explores a scenic stretch of the Chattahoochee River is nearly level elevation, making it kid-friendly. Follow the trail to the park's observation tower at .85 miles, which makes a great mid-hike resting or snack spot.
---
Cochran Mill Park (Chattahoochee Hills)
DIFFICULTY: EASY-DIFFICULT • STROLLER FRIENDLY: YES (Jogging Strollers)
Over 20 miles of amazing mixed-use trails, multiple beautiful waterfalls, and stunning vistas Cochran Mill Park offers something for everyone - hikers, bikers & equestrians! Ranging from 30 minutes to 3+ hours and from easy to difficult, Cochran Mill Park has 17 trails to choose from. Additionally, most all trails have bike and horse access. Before you go, download the Cochran Mill Park App. No mobile signal? No problem! The Cochran Mill Park App will work even when the cellular signal is not available, so you can still track your hike, view trail maps, and access emergency contact info. Parking fee is $5.00 daily.
---
High Falls State Park (Jackson)
DIFFICULTY: MODERATE • STROLLER FRIENDLY: NO
High Fall State Park offer 4.5 miles of trails. The Falls Trail is 1.2 miles and follows along a series of waterfalls, which makes for beautiful scenery and family photo opps.
---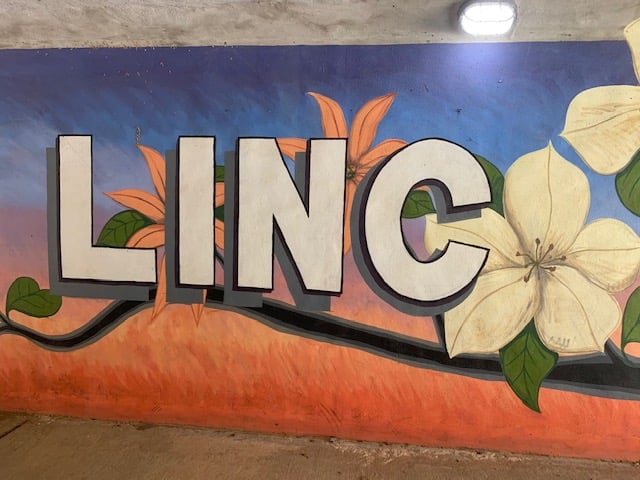 The LINC (Newnan)
DIFFICULTY: EASY • STROLLER FRIENDLY: YES
The LINC is a multipurpose trail built on public rights of way and greenspace in Newnan, Georgia. The LINC trail system is enjoyed by walkers, runners, skaters, bicyclists, and people using non-motorized vehicles. There is ample parking at Newnan Centre (1515 Lower Fayetteville Rd, Newnan). It includes benches, bike racks, signage, trash receptacles, a tool station, and a dog station. The LINC features woods, bridges, a tunnel under Lower Fayetteville Road, a mural, and a healthy dose of peace and quiet. Phase 1 is approximately 1.4 miles long. Phase 2 of the LINC is more urban and connects Phase 1 to downtown Newnan at the old Railroad Depot. Phase 2, which includes a bridge over Interstate 85, adds approximately 3.4 miles. If you'd like to venture off the paved trail, the Roller Coaster trail is adjacent to the LINC and provides a hike on a narrow trail. Please read the usage instructions to know which direction to walk as mountain bikes share the trail.
---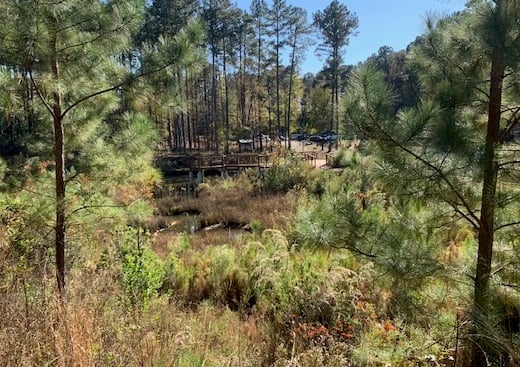 Line Creek Nature Area (Peachtree City)
DIFFICULTY: EASY-MODERATE • STROLLER FRIENDLY: YES (some areas with a jogging stroller)
Line Creek Nature Area offers a mix of habitats – an upland hardwood forest, beautiful creekside granite outcroppings, and a rushing stream. Visitors will enjoy a fishing dock on a small pond, a gazebo and almost three miles of nature trails. Keep an eye out on the trails for a few historic sites! This stretch of Line Creek was home to multiple mills in the 1800's, and the remnants of their dams can still be seen today.
---
Newman Wetlands (Hampton)
DIFFICULTY: EASY • STROLLER FRIENDLY: YES
Newman Wetlands offers trails, picnic area and a learning center. The Boardwalk Trail is a 1/2 mile long and provides an easy walk on a surface alternating between crushed stone and wooden boardwalk. It is flat with several benches, covered areas, and great views. There are also two new primitive trails that loop back to the main trail. The Learning Center features an exhibit area to explore. Parking and admission are free.
---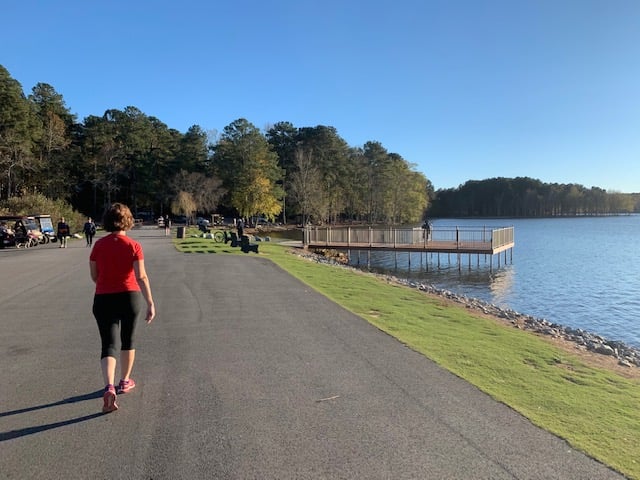 Peachtree City Golf Cart Paths
DIFFICULTY: EASY • STROLLER FRIENDLY: YES
Obviously, Peachtree City with it's 90+ miles of golf cart paths has plenty of walking trails. However, whenever I share pictures of the area with people all over the country, they're amazed that I have such a beautiful location to get out and walk or run. So, if you haven't taken advantage of the paths, I encourage you to do so....even if you don't live in Peachtree City. If you live outside Peachtree City, I would recommend parking at Drake Field (155 Willowbend Rd), by the library, and walking around the lake. The distance is about 3.5 miles and it's all stroller friendly.
---
Providence Canyon (Lumpkin)
DIFFICULTY: EASY-MODERATE • STROLLER FRIENDLY: NO, (although a jogging stroller could navigate the rim)
Georgia's "Little Grand Canyon" is a testament to the power of man's influence on the land. Massive gullies as deep as 150 feet were caused by poor farming practices during the 1800s, yet today they make some of the prettiest photographs within the state. Visitors to Providence Canyon can enjoy views of the canyons from the rim trail, taking care to stay behind fences and off the fragile canyon edge. Hikers who explore the deepest canyons will usually find a thin layer of water along the trail, so be sure to wear you 'old' hiking shoes. The most difficult part of the hike is going in and out of the canyon. However, it should be doable for a 4 or 5 year old. Once you hike down, the canyon itself is kid friendly to walk around.
---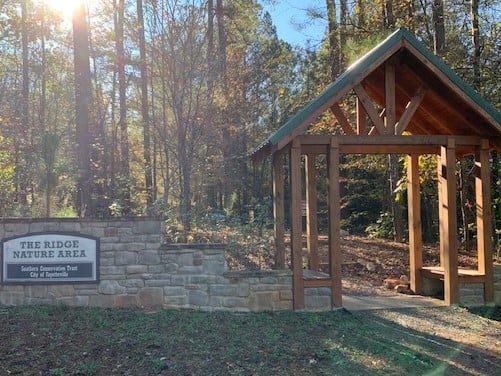 The Ridge Nature Area (Fayetteville)
DIFFICULTY: EASY-MODERATE • STROLLER FRIENDLY: NO
With over seven miles of trails, the Ridge Nature Area offers hiking, trail running, and mountain biking. There are eight trails between .3 and 2.8 miles in distance to choose from. The top of the Ridge provides easier walking trails that wind through the upland pine habitat. Mountain bikes and dogs are permitted.
---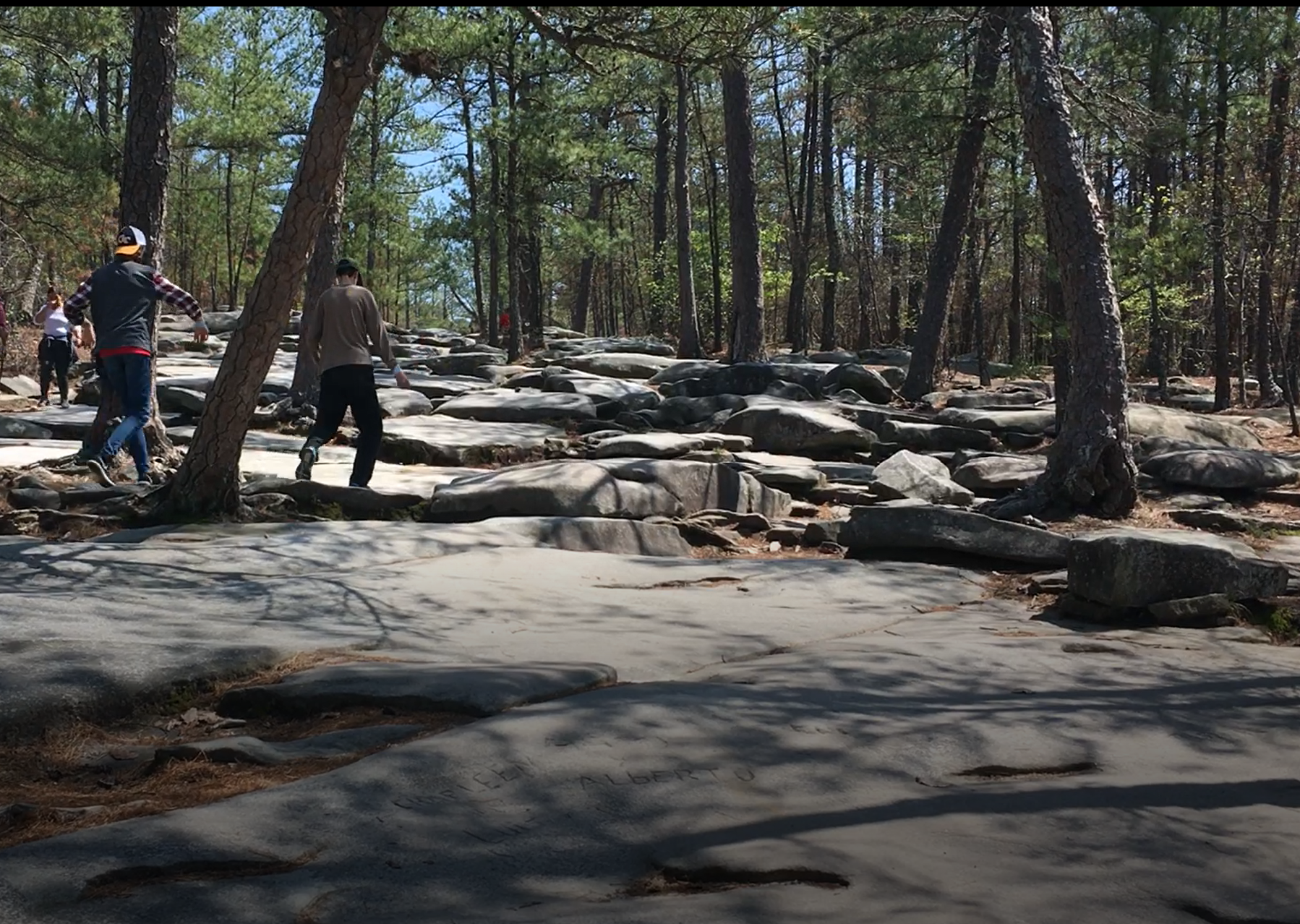 Stone Mountain Park
DIFFICULTY: EASY-DIFFICULT • STROLLER FRIENDLY: YES (some areas with a jogging stroller)
Stone Mountain Park offers 15 miles of walking and hiking trails with varying degrees of difficulty, including a one-mile trail to the top of the mountain. The Nature Garden trail is an easy, scenic loop through a mature oak-hickory forest. The hike to the top of the mountain is more challenging with some very steep sections, but includes a great view of downtown Atlanta. I would save the hike to the top for kids at least 8 years old and don't like to give up, unless you don't mind carrying them. For many local moms, the drive to Stone Mountain is worth it due to the many options, which include playgrounds. A a daily parking pass is currently $20, but many local moms recommend the year pass for $40.
---
Sweetwater Creek State Park (Lithia Springs)
DIFFICULTY: EASY-DIFFICULT • STROLLER FRIENDLY: NO
Sweetwater Creek State Park has 15 miles of trails. The Red Trail (1 mile one way), takes you to the impressive five-story New Manchester mill ruins alongside the white-water rapids of Sweetwater Creek (about a half mile in) and is the recommended hike for first-time visitors. A history guide for the Red Trail is available in the Interpretive Center. The second half mile of the Red Trail, downstream of the mill, continues to follow the rapids to the Sweetwater Falls area and is considerably more strenuous because of the very rocky terrain. The Red Trail is the most frequently used trail in the park because it's the shortest trail to the mill ruins and best showcases the beauty of the creek valley.
---
Favorite Local Park Paths
DIFFICULTY: EASY-DIFFICULT • STROLLER FRIENDLY: YES
Carl Miller Park, Newnan: Walking/jogging trail - one circuit is 6/10 mile. Lots of shade. Two big playgrounds with one designated for children 3 and under and the other as a wooden castle. No dogs allowed.
Lake Horton Park, Fayetteville: Walking/jogging trails - North and South Loop are 2.8 miles. Playground and exercise equipment along the route. Dog friendly. There is a $5.00 parking fee for all vehicles with a NON-Fayette county tag.
McCurry Park, Fayetteville: McCurry Park North is a 1.1 mile loop trail that features several playgrounds and a great forest setting.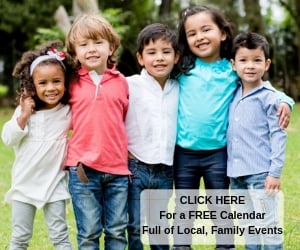 Are you constantly looking for things to do locally with your kids? We have an event calendar just for local families! It's packed full of local events, festivals, fairs, story times, and awesome local family fun. We proudly serve families in Tyrone, Fayetteville, Senoia, Sharpsburg, Brooks, Newnan and Peachtree City! Sign-up for FREE by clicking HERE.