Who do parents turn to when they want to find the most awesome dance lessons for their kids, or the best doctors for their family? Well, Macaroni Kid and other parents, of course!


The nomination period for the Fayette & Coweta Macaroni Kid Family Favorite Awards is now open! Don't keep great local businesses a secret! Pick your favorites and share them with us!
When you nominate in at least 10 categories, you'll be entered for a chance to WIN a $50 gift certificate to a local business of your choice, compliments of Macaroni Kid Peachtree City-Fayetteville-Newnan. Businesses can win big too. The winning business in each category will receive a free one-year premium listing in the Macaroni Kid business directory, an article highlighting their business, and a badge to use on their website. plus the honor of knowing local families consider them one of the best ($300 value)!
SCHEDULE
Nominations will be open from August 11, 2022 through August 26, 2022. We will tally all of your write in nominations and the top 3 finalists in each category will move onto the voting stage.
Voting will be open from September 8, 2022 through September 25, 2022. You will vote on the top finalists and let us know your top pick!
We will announce the winners in October
RULES
Only one nomination and vote per email address, please. Only valid emails will be counted.
You must be a subscriber to the Macaroni Kid Peachtree City-Fayetteville-Newnan newsletter in order to nominate and vote. Subscribe here to follow along with all the fun and receive our FREE weekly e-newsletter jammed packed with local events!
Nominate as many or as few businesses as you would like. You must nominate in at least 10 categories to be entered into the prize drawing.
Businesses must be located within Fayette or Coweta Counties.
BUSINESS TIPS AND INFORMATION
Feel free to promote this contest to your loyal customers on your website, social media, and more!

WINNING businesses will receive a FREE listing in our Macaroni Kid Business Directory through 2023, inclusion in the newsletter article announcing the winners, a Macaroni Kid Family Favorite Award certificate to display at their place of business, a digital "Winner" logo for their website, and the honor of knowing that local Coweta & Fayette County area families think they are the greatest!
GOODIES FOR READERS
For sharing your top picks with us, we'll be giving away a $50 gift card during the nomination period and during the voting period.
Subscribers must nominate or vote at least ten categories to be entered during each period.
The sooner you nominate and vote, the more chances you'll have to win!
See complete Official Sweepstakes Rules.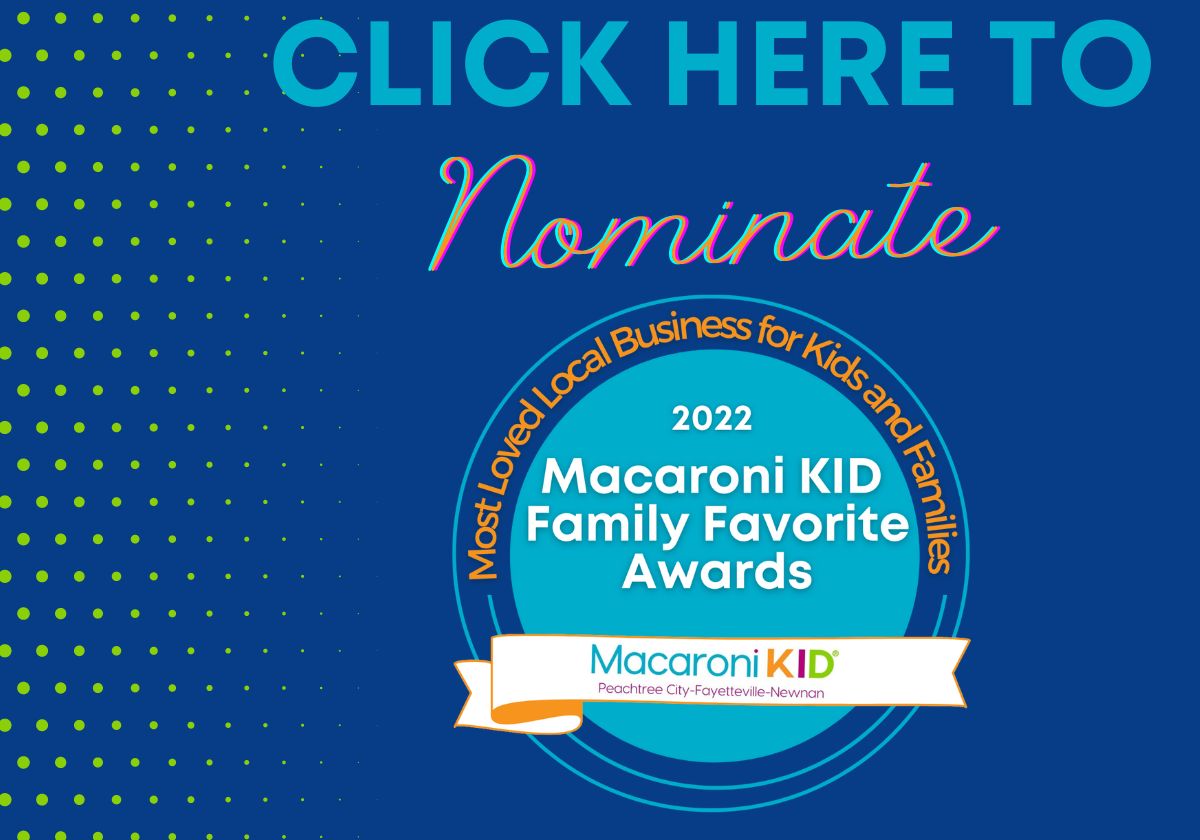 The Categories are ...

Classes & Enrichment
Art
Dance/Movement
Drama/Theater
Gymnastics
Martial Arts
Music
Swim
Youth Sports
Library
Recreation
Family Friendly Festival/Event
Outdoor Playground
Indoor Play Place
One Tank Family Road Trip
Outdoor Fun Place
Celebration
Birthday Party Venue
Birthday Cakes & Sweet Treats
Children's Entertainer
Family Dining
Kids Eat Free
Pizza
Dessert
Services
Daycare
Preschool
Family Photographer
Kids Haircuts
Tutoring Services
Family Wellness
Dentist (Pediatric or Family)
Family Chiropractor
Orthodontist
Pediatrician
Women's Health Practitioner
One Last Thing
Coweta's Best Kept Family-friendly Secret
Fayette's Best Kept Family-friendly Secret


Click HERE to nominate your favorite, local, kid and family-friendly businesses!