Taking pictures of your kids can be hard! They're always moving. They won't smile when you want them to. The light is too dim.
But with today's smartphones, taking great pictures is easier than ever, no matter the circumstances. You don't have to have a fancy camera to take great pictures! But you do have to keep a few things in mind to get that great shot. As a professional photographer, I've had a lot of experience shooting kids and families. Here are five tips I offer parents who ask me how to take better pictures of their kids:
Looking for Activities To Do With Your Kids? Save Time by signing up to receive a FREE weekly update full of all family-friendly events and happenings in Fayette and Coweta Counties.
1. Get down on their level
Don't take the pictures at the same angle every single time. Shoot pictures down on their level. Don't be afraid to lay in the grass or stand on something to get that perfect shot. Move yourself so you can see the best view of your child.
2. Take candid photos
As much as we all love that perfect photo of our kids smiling right at the camera, it turns out that those often are not my favorite. Instead, capture your child smiling at someone they love or looking at something they really enjoy. Capture that happiness instead of trying to get them to smile right at you. Sometimes you will get lucky and you will get both!
3. Turn off the flash
Don't use that flash unless you absolutely have to. Take pictures outside using natural light or near a window in your home that brings in that light. If you need more light use a big white poster board to bounce that light onto your child, but try not to use the flash on your camera.
4. Simplify the background
Try to make your child the main focus of the picture. Don't have too much going on around them or they will be lost in the clutter. The more simple the background, the better. You want to look back at a picture of your child, not a photo filled with things.
5. Watch for 'the moments'
Keep your camera handy and take lots of pictures! You can always edit them down to your favorites later. Watch for the moments of pure happiness or simple excitement and then... shoot that perfect picture!
When to hire a professional
While it's easier than ever to take great pictures of your own kids, I think there are definitely times when it's still best to hire a professional photographer. Leave it to a professional, for instance, to take those family pictures you want to hang on your walls. Leave it to a professional to get those great shots of your kids looking straight at the camera and smiling.
But meanwhile, take lots of pictures, try lots of angles and keep practicing! Eventually, it will become easy to shoot that perfect photo that you'll treasure forever.
See these tips in action:
Gwendolyn Dattage is a professional photographer and a mom who loves taking pictures of her kids! She publishes Macaroni Kid St. George, Utah.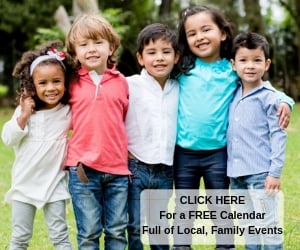 Are you constantly looking for things to do locally with your kids? We have an event calendar just for local families! It's packed full of local events, festivals, fairs, story times, and awesome local family fun. We proudly serve families in Tyrone, Fayetteville, Senoia, Sharpsburg, Brooks, Newnan and Peachtree City! Sign-up for FREE by clicking HERE.