Halloween-themed books are a favorite in our house at this time of year and we add to our Halloween book collection each year.
Complete Fall Guide | Pumpkin Patches and Corn Mazes | Fall Festivals & Trunk or Treats | Haunted Houses
Looking for ideas on what to add to yours? Here are some of my kids' favorite Halloween books to help you grow your own collection.
For the Little Boos
(Ages infant to 3)
By Dan Yaccarino
From the publisher: With bouncy, rhyming text in verse from the classic nursery rhyme and bold, dynamic illustrations from acclaimed author-illustrator Dan Yaccarino, Five Little Pumpkins is a must-have Halloween board book.
By Sonali Fry
From the publisher: This gently spooky twist on "The Itsy Bitsy Spider" makes a favorite nursery rhyme just perfect for Halloween.

By Sandra Boynton
From the publisher: What will little Pookie decide to be this year? Pookie tries on costumes one by one, but somehow can't find just the right thing. The resolution to Pookie's dilemma will delight toddlers and their caregivers alike.
For the Little Ghouls
(Ages 4 to 6)
By Julia Donaldson
From the publisher: The witch and her cat are happily flying through the sky on a broomstick when the wind picks up and blows away the witch's hat, then her bow, and then her wand! Luckily, three helpful animals find the missing items, and all they want in return is a ride on the broom. But is there room on the broom for so many friends? And when disaster strikes, will they be able to save the witch from a hungry dragon?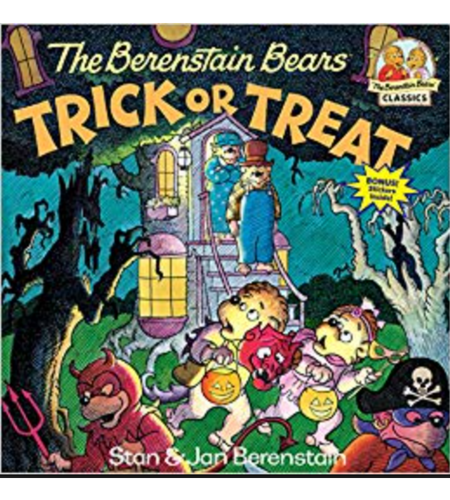 By Stan & Jan Berenstain
From the publisher: It's Halloween and Brother and Sister can't wait to go trick-or-treating with all of their friends, but when someone in the group encourages the kids to play a trick, things don't go as planned.
By Charlotte Gunnufson
From the publisher: In the dark, a funky beat. Something white with bony feet. Skeleton dancing up the street. Doing the Halloween Hustle. Skeleton is dancing his way to a Halloween party—but as he grooves across town, he keeps stumbling, tumbling, and falling apart! Can Skeleton stay in one piece long enough to make it to the party?

By Cara Via
From the publisher: Halloween Holly is a unique little elf who collects children's extra Halloween candy & brings it back to the North Pole where it magically helps energize Santa's elves as they make the toys for Christmas. Each book is packaged together with one of Halloween Holly's Special Candy Bowls where kids leave their extra candy for her to collect each and every year.
For the Bigger Boos
(Ages 7 to 10)

By Anna Elizabeth Bennett
From the publisher: Anna Elizabeth Bennett's whimsical 1953 tale of a little witch who dreams of becoming a normal girl is in print for the first time in 30 years.

By Mary Pope Osborne
From the publisher: Jack and Annie are summoned once again to the fantasy realm of Camelot. There, Merlin the Magician tells them that the Stone of Destiny has been stolen. The answer to its disappearance lies within a haunted castle. With a young magician named Teddy, Jack and Annie take on the challenge in an adventure that takes them to new heights and places they couldn't even imagine.
Want more Halloween book choices? Don't miss Macaroni Kid's sponsored review of The Dreadful Tale of Prosper Redding, a contemporary fantasy about a modern New England boy who must rid himself of the ancient demon inhabiting his body and break his family's curse.
Stephanie Duhon is a mom and the publisher of Macaroni Kid Franklin/Spring Hill, Tenn. and Macaroni Kid Murfreesboro, Tenn.